Do you know someone who would love a pair of PYSIS, but you're as familiar with her shoe size as you are her natural hair color?? Well, you're in luck! We're now offering Gift Certificates. Each Gift Certificate purchased will be redeemable for one pair of PYSIS.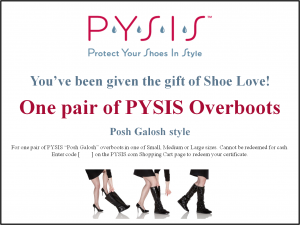 Simply go to the SHOP page HERE on our site and choose Gift Certificate from the "Size" drop down menu. When placing your order, be sure to enter an accurate email address and a phone # where you can be reached, if necessary. Enter the name of the recipient of your gift in the "Order Notes" section at checkout, if you'd like us to include her name on the certificate.
Once your order is placed, we'll email you a personalized certificate with an individual code redeemable for one pair of PYSIS. The recipient of your gift will go to our SHOP page, choose her size and click through to the Shopping Cart page. On the Shopping Cart page, she'll enter her code for a 100% discount on her Posh Galoshes.
Email us with questions at contact@pysis.com. Happy Holidays and love to your shoes!